Free Craft Project
Pussycat Hat
Thanks to the women's march in Washington D.C. on January 21st, the pussycat hat has become one of the most popular craft items.
There are plenty of variations but this particular project has to be the simplest one of all. After you've knitted one for yourself, you'll want to make a pussycat hat for every woman and girl you know!
Materials
pink yarn
knitting needles size 8
yarn needle (or similar large-eye needle)
Instructions
Guage: 6 sts = 1 inch ; 11 rows = 2 inches
Cast on 84 stitches.
Row 1 - * K1, P1. Repeat from * across (rib pattern) until the piece measures 7-1/2 inches.
Cast off all stitches.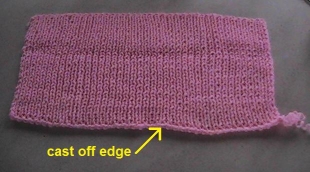 Sew side seams together.
Position sewn side seam to center of the piece and then sew the top seam.
Turn right side out and push the two corners all the way out to form the tips of the cat ears.
Now wear your pussycat hat with pride!